Multinational Corporates
Fuel the growth of your multinational business in India.
Preferred local banking partner with holistic understanding and relationship banking to provide customized banking solutions to MNCs.
Multinational Companies (MNCs) Corporate Banking
The MNC Corporate Banking team at RBL Bank caters to the banking needs of Multinational Companies present in India.
As a preferred local banking partner, we offer a host of tailor-made financial solutions to support MNCs to grow in India. We achieve this by developing a holistic understanding of your needs and with an emphasis on relationship banking.
We are the ideal Indian banking partner for MNCs in India.
Key Benefits
Over 100 years of collective experience
Dedicated Relationship Managers
Extensive Advisory on regulatory FEMA, RBI, Transactional Services
State-of-the-Art Digital Banking Experience
Our Reach:
Providing bespoke solutions to MNCs from USA, EU Region, EMEA, APAC for all inbound MNCs
Focused sectorial experience: IT, IT&ES, consultancy, cement, engineering, medical equipment, money transfers and exchange houses, chemicals & fertilizer, EPC and many others
Life Cycle: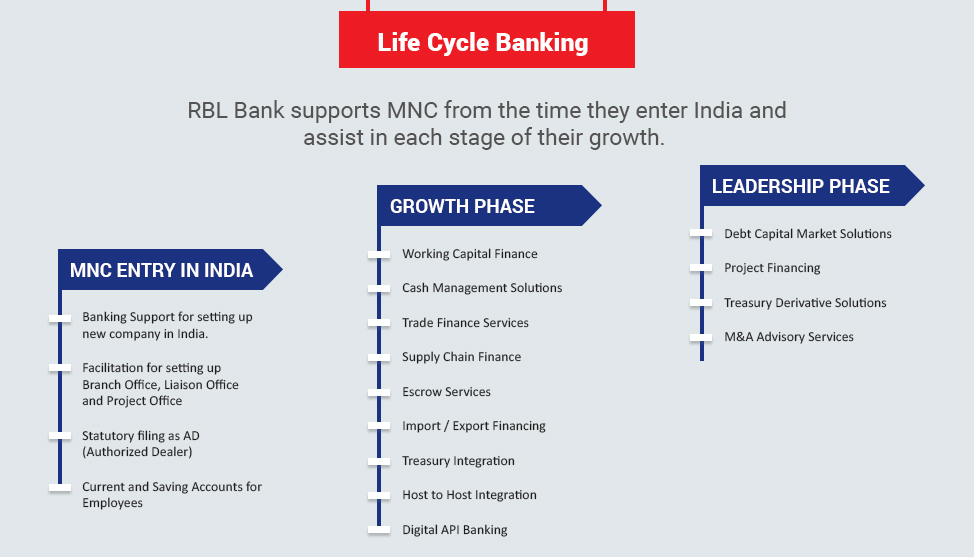 Corporate Credit and Transaction Banking for MNCs
RBL Bank provides comprehensive banking solutions to Multinational Companies, irrespective of their size. With superior structuring capability, our facilities and transaction banking services are benchmarked to the best in class. The bank provides seamless and smooth customer service experience while catering to complex client requirements:
Procurement
Manufacturing
Treasury & MIS
Sales

Trade Credit (Buyer's Credit / Supplier's Credit)
Pre-Shipment Finance 
Bid Bond Guarantees 
Advance and Performance BGs 
PCFC / PCRE 
LCs

Cash Credit
WCDL 
Vendor Finance 
Indian rupee and Foreign Currency Term Loans 
Import Remittances
Non-Import Remittances

Cash-Tom-Spot
Forwards Covers
Cross-Currency Swaps
Derivatives 
Bespoke MIS for Payments and Collections 
API Banking

Dealer Finance 
Post Shipment Finance
Export Collections
Factoring Services
Receivable Management Solutions
Invoice / Purchase Bill Discounting 
Transaction Banking and Cash Management Solutions for MNCs
CMS Collections:
e-Collect / Virtual Accounts 
Traditional Cheque Collections from Dealers 
 e-NACH 
 Cash Collection from Dealer / Franchise Locations
 
Customised Invoicing:
Digital Invoice Presentment and Processing (immense value add for GST)
 
Payments:
Host to Host Integration for Payments (NEFT / RTGS / IMPS) 
UPI Payments 
Cheque Printing at Client Premises 
Remote Cheque Printing
 
Digital Banking:
API Banking - Application Programming Interface 
56 APIs to provide comprehensive suite for validation, payments and receivables directly integrated to your SAP / ERP system
Transaction Banking & Trade Solutions
RBL Bank provides services / solutions as below:
Export
Import
Bank Guarantees / Standby Letter of Credit
Remittances
Supply Chain Finance

LC Advising
Confirmation
Export Bill Collection
PSFC & PCFC
EDPMS - Management

Import Bill Collection
Import Direct Buyer's Credit
Supplier's Credit
Delivery Order Issuance
Advance Payment Import
IDPMS - Management

Performance Guarantees
Financial Guarantees
Bid Bond
Advance Payment Guarantees
Shipping Guarantees

Foreign Direct Investments (FDI)
Vanilla Inward Remittances
Outward Remittances (A2 Payments)
Capital Market Transactions

Vendor Finance
Dealer  Finance
Factoring
Treasury Solutions for MNCs
Multi-currency capability with settlements in all major pairs with extended cut-off timing. Strict operational TATs for transaction execution.
LER limits for hedging to enable better risk management and maximize revenues. 
Expertise in handling RBI Reporting for Foreign Direct Investment (FDI) / Foreign Institutional Investment (FII) transactions
- Single Master Form (SMF) for Foreign Investment Report & Management System (FIRMS)
- Foreign Inward Remittance Certificate (FIRC)
Best rates in Industry for Liquidity Management – Fixed Deposits/Liquid Funds/Mutual Funds
RBL Bank deals in all major currency pairs as mentioned below:
| | | | |
| --- | --- | --- | --- |
| USD | EUR | GBP | AUD |
| JPY | CHF | SGD | AED |
| HKD | NZD | DKK | SEK |
| NOK | CAD | ZAR | CNH |
GIFT City
RBL Bank has set up its IFSC (International Financial Services Centre) Banking Unit (IBU) at GIFT City branch in April 2017. The IBU gives a strategic access to offer a range of Foreign Currency denominated services to MNCs which in turn enables us to help you tap into global growth opportunities:
Trade credit
Overseas funding of subsidiaries of domestic corporates
Buyer's Credit
External Commercial Borrowing
Exchange Houses
RBL Bank provides the facility for sending money to India seamlessly to any bank account in India through the Rupee Drawing Arrangement route.
The facility to send money in the most convenient and fastest way from any of our leading Exchange House Partners covering following countries:
AMERICAS

USA

CANADA

EUROPE

UK

Other EU Countries

MIDDLE EAST AND APAC

 

UAE, QATAR, OMAN, KUWAIT

AUSTRALIA, SINGAPORE, MALAYSIA, HONGKONG
Features:
Convenience to choose from our globally partnered Exchange Houses for ensuring ease of accessibility and fast remittance
No limit on amount for remittance that can be sent to India (only for individual transactions)
Credits to Bank accounts in India within 24 hours
SMS alerts to remitter and beneficiary providing status of the payment
Choose to remit money using IMPS/NEFT/RTGS to avail instant credit to any Beneficiary Bank account in India live on the IMPS network
Foreign Inward Remittance (FIR) through Unified Payment Interface (UPI): Recently, RBI has approved NPCI for processing the domestic leg of foreign inward remittances into bank accounts using UPI and RBL Bank facilitates Exchange Houses in executing these transactions